Delete4Sure (Half Price Today! Only $9.95!)
Permanently delete sensitive computer files.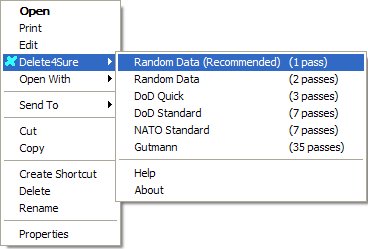 Are you concerned about privacy?
Windows allows disk utilities and spy tools to easily display or recover previously deleted files. Delete4Sure protects your privacy by adding a secure delete command to Windows, ensuring that once you delete your files no one will be able to recover and see them.

Is it easy to use?
After running the installer, you can securely delete files by right-clicking and choosing an overwrite method.

How secure is it?
Delete4Sure uses the same methods recommended by the Department of Defense and NATO to destroy classified files.

Below is the raw data left on a hard drive after a standard Windows delete. The contents of the file are entirely readable with common hard drive utilies.




Below is a similar file that has been deleted with Delete4Sure. All that's left is a random stream of data. No disk utility can recover the original file.




How much does it cost?
Similar software costs as much as $30. Delete4Sure costs only $9.95 $19.95.